LPA Spring Meeting

Register Online or Download the PDF

See who's attending by clicking here!



The LPA Spring Meeting, held May 2-3 at The Ritz-Carlton Pentagon City in Arlington, Virginia, promises to be an outstanding one, with ample opportunities to network with fellow members and an excellent education program. Over the course of a day and a half, LPA Members will garner calls-to-action for both their company and personally.

Schedule
Tuesday, May 2
7:30-9:00AM Breakfast/registration
9:00-10:45 Eric O'Neill, Securing Your Company in the Age of Cyber Threats
10:45-11:00 Morning Break
11:00-11:30 Chad Moutray, U.S. and Global Manufacturing Economic Update
11:30-12:00pm Linda Dempsey, The Trade Landscape in 2017 and Beyond
12:00-1:30 Networking Lunch
1:30-2:15 Dr. Lawrence Tabak, NIH Outlook
2:15-2:30 Afternoon Break
2:30-3:15 Michael Correia, Opportunities & Challenges in the Cannabis Market
3:15-4:00 Rob Smith, Government Affairs Update
4:00-4:15 Peter Schütte, SPECTARIS presentation
5:30-7:30 Reception & Dinner
7:30-10:00pm Optional Twilight Monuments Tour

Wednesday, May 3
7:30-8:30AM Breakfast
8:30:10:00 Mike Marks, Channel Design in the Post-Internet World
10:00-10:15 Break
10:15-11:30 Alden Mills, Be Unstoppable: From SEAL Team to Start-ups – The Secret to Success
11:30 Meeting concludes

More about the speakers:


Eric O'Neill
Securing Your Company in the Age of Cyber Threats
Recent years have seen a massive increase in cyber theft of private and confidential information from government agencies, business, and private individuals. The modern spy is responsible for these attacks. Today's spies are sophisticated, brilliant, devious and technologically advanced, and they are targeting your data. Robert Hanssen was the first of these new cyber spies, charged with selling American secrets to Russia for more than US$1.4 million in cash and diamonds. His ability to exploit computer systems allowed him to protect his identity during a 22 year spy career. Eric will discuss steps your company can take to stay secure to include: the need for diligence; critical areas in physical security; phishing and email hacks; social media dos and don't's; economic espionage; and preventing the insider threat.

About Eric O'Neil
Eric O'Neill is the subject of Universal Studios' feature film, "Breach". He is an accomplished public speaker and security expert who lectures internationally about espionage and national security, cybersecurity, fraud, corporate diligence and defense, hacking, pursuing ones dreams and surviving Hollywood. Eric has worked as an FBI counterterrorism and counterintelligence operative, a national security attorney and as a corporate security consultant. He founded The Georgetown Group, a premier investigative and security services firm. Eric is also the National Security Strategist for Carbon Black, the leader in next generation endpoint security.
In February 2001, Eric helped capture the most notorious spy in United States history, Robert Phillip Hanssen. In the three months preceding Hanssen's arrest, Eric was selected to work with the spy within the newly minted information assurance division, created to protect all classified FBI intelligence. Eric was charged with gaining Hanssen's trust and then using that relationship to slowly draw the traitor out of deep cover. Eric's investigative skill led to the arrest and ultimate conviction of the master spy.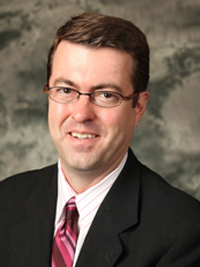 Chad Moutray
Chief Economist
National Association of Manufacturers
U.S. and Global Manufacturing Economic Update

This session will discuss the current state of the manufacturing economy, including the outlook for U.S. and global growth along with a conversation of ongoing challenges.

About Chad Moutray
Chad Moutray is chief economist for the National Association of Manufacturers (NAM), where he serves as the NAM's economic forecaster and spokesperson on economic issues. He frequently comments on current economic conditions for manufacturers through professional presentations and media interviews. He has appeared on Bloomberg, CNBC, C-SPAN, Fox Business and Fox News, among other news outlets.

Prior to joining the NAM, Mr. Moutray was the chief economist and director of economic research for the Office of Advocacy at the U.S. Small Business Administration (SBA) from 2002 to 2010. In that role, he was responsible for researching the importance of entrepreneurship to the U.S. economy and highlighting various issues of importance to small business owners, policymakers and academics. In addition to discussing economic and policy trends, his personal research focused on the importance of educational attainment to both self-employment and economic growth.


Linda Menghetti Dempsey
Vice President, International Economic Affairs
National Association of Manufacturers
The Trade Landscape in 2017 and Beyond

From NAFTA renegotiation and bilateral agreements to a stronger push on trade enforcement to address foreign market-distorting trade practices, this session will look at the administration's and congressional priorities on trade for the year ahead.

About Linda Dempsey
Linda Menghetti Dempsey is the vice president of international economic affairs at the National Association of Manufacturers (NAM). In this capacity, Ms. Dempsey leads the NAM's efforts to improve the global competitiveness of manufacturers in the United States by advocating for intellectual property and investment protection, increased export financing and the elimination of trade barriers, as well as pushing for agreements and treaties to open up new export markets to create jobs. Ms. Dempsey is noted for her experience on a wide range of international trade and investment policy issues.


Dr. Lawrence Tabak
Principle Deputy Director
National Institutes of Health (NIH)
Deputy Ethics Counselor of the Agency

Dr. Tabak has provided leadership for numerous trans-NIH activities, including the NIH Roadmap effort to support team science, known as the NIH Common Fund; the NIH Director's initiative to enhance peer review; NIH's American Recovery and Reinvestment Act implementation; the NIH initiative to enhance rigor and reproducibility in research; and the NIH-Wide Strategic Plan. He co-chaired working groups of the Advisory Committee to the Director of NIH on the Diversity of the Biomedical Research Workforce and the Long-Term Intramural Research Program Planning. Dr. Tabak also served as the interim program director of the trans-NIH Environmental influences on Child Health Outcomes (ECHO) program.
Prior to joining NIH, Dr. Tabak was the Senior Associate Dean for Research and Professor of Dentistry and Biochemistry & Biophysics in the School of Medicine and Dentistry at the University of Rochester in New York. A former NIH MERIT recipient, Dr. Tabak's major research focus has been on the structure, biosynthesis and function of glycoproteins. He continues work in this area, maintaining an active research laboratory within the NIH intramural program in addition to his administrative duties. He is an elected member the National Academy of Medicine (formerly, the IOM).


Michael Correia
Director of Government Relations
Opportunities & Challenges in the Cannabis Market
As the use of cannabis in medical and scientific research, along with adult-use, continues to expand, so do the opportunities for companies that manufacture lab products. In this informative presentation, Michael Correia, Director of Government Relations for the National Cannabis Industry Association will discuss the opportunities and challenges for LPA members looking to get into this market area. He will discuss the legal, regulatory, tax, and banking implications as well as what can be expected from the new Congress and Administration. He will also discuss the importance of cannabis in medical research.
About Michael Correia
Michael Correia is director of government relations for the National Cannabis Industry Association. His focus is raising awareness and building support for the cannabis industry's issues on Capitol Hill. In addition, Michael works with other national organizations to increase the cannabis industry profile nationally. Prior to joining NCIA, Michael spent many years working on Capitol Hill, including working for Rep. George Radanovich (R-CA), who retired in 2010, and the House Committee on Resources, serving three different Chairmen. Previously, he was director of federal affairs for the American Legislative Exchange Council (ALEC) and senior project manager for the Committee for Responsible Federal Budget. In both positions, he advocated for policies in Congress.


Rob L. Smith
Senior Legislative Advisor
Government Affairs Update

Rob Smith represents a diverse client base including entities from the defense, pharmaceutical, health care, environmental, financial services and transportation industries. A veteran of Capitol Hill, Mr. Smith uses his experience and knowledge to advise the LPA on all aspects of federal advocacy, including obtaining federal funding, marketing and sales to federal agencies and developing effective relationships with their constituent members of Congress and congressional staff. Using his numerous bi-partisan relationships on Capitol Hill, he has led many successful legislative coalition efforts on behalf of his clients. These successes are a direct result of his well-established relationships with representatives from both parties.

About Robert L. Smith
A native Oklahoman, Mr. Smith is politically active and serves on the steering and finance committees for many elected officials. In 2004 and 2008, Mr. Smith served as a professional volunteer in the Official Proceedings Division of the Republican National Committee. In that role, he was responsible for the logistics and hospitality of over twenty members of Congress and VIPs.

Prior to joining Venable, Mr. Smith served as federal affairs representative for Sun Microsystems. He represented Sun, one of the world's largest technology companies, on numerous legislative and regulatory matters including domestic and international tax, broadband, employee compensation and benefits, accounting and export controls. He was active in directing Sun's participation in major technology trade associations, coalitions and congressional working groups and was the company's prime liaison before key political party organizations.


The first day concludes with a networking reception and dinner, followed by an optional outing- D.C. Monuments Twilight Tour. Two trolleys will pick members up at the Ritz-Carlton and take them to the Jefferson Memorial, the World War II Memorial, Iwo Jima Memorial, and the Lincoln Memorial. The tour is approximately 2.5 hours and is a live, fully-narrated tour. Each conductor is a licensed tour guide.


Mike Marks
Founder, Indian River Consulting Group
Channel Design in the Post Internet World
Mike Marks is back to share some insight on channel design and marketing around what might be next. Old timers can remember when they produced products in the US almost exclusively and they were much larger than the distributors that took them to market. Well, that has changed as we are known a true global industry both in terms of production and locations of end users. The first ever product sold on the Internet was done by Fisher in 1978 using ERIC. For young people, this is what preceded the world wide web. It is so old that Fisher may not even know they have bragging rights on being the first. Fast forward and Amazon has now earned a place in the industry adding considerable value to both end users and producers. So what makes you think that we have reached some steady state around how products get to end users in this industry?

This is not a large industry but it has always been at the forefront of linking technology into improving the quality of human life and it is not going to change. Mike isn't any smarter than the rest of us but he has pulled together some foundational ideas around innovation and economics that will continue to be true for our next wave. He will apply them to some scenarios that may evolve in the future. As usual it will be a bit provocative and he will always focus on trying to help executive position the continued change as a wind at their back. This is one you won't want to miss.

About Mike Marks
Mike Marks co-founded IRCG in April 1987. He began his consulting practice after working in distribution management for more than 20 years. Over the years, his narrow focus in B2B channel-driven markets has created an extensive number of deep executive relationships within virtually every business vertical in construction, industrial, OEM, agricultural, and healthcare.


Alden Mills
Former Navy SEAL Platoon Commander, Co-founder/CEO of Perfect Fitness
Be Unstoppable: From SEAL Team to Start-ups – The Secret to Success
Over 25 years of leading SEALs and businesses, Mills failed more times than he succeeded and transformed his lessons from both his failures and remarkable successes to create a process for succeeding. Based on his book, "BE UNSTOPPABLE: The 8 Essential Actions to Succeed at Anything", Mills condenses his message down to the only two things that lead to success: Actions and Attitudes. A riveting storyteller, Mills closes the Spring Meeting and shares lessons and stories to prove that success is the result of deliberate actions and "can-do" attitudes, leaving audiences inspired and armed with news tools to tackle any obstacle.

About Alden Mills
Odds are that you or someone you work with uses Alden Mills' inventions. He is a former Navy SEAL who has been awarded more than 40 patents, which have sold over 10 million products (and counting) worldwide. He's created five #1 ranked infomercials, and is the author of Be Unstoppable: The 8 Essential Actions to Succeed at Anything. The company he co-founded and led, Perfect Fitness (e.g. Perfect Pushup, Perfect Ab-Carver, etc.), gained national acclaim through Inc. Magazine as the fastest growing consumer products business from 2007 to 2009, with an astounding 12,000%+ grow-rate going from $500k to over $63M in just three years.

His mantra is "Success is a team sport." Mills learned his mantra early in life as an uncoordinated, asthmatic who persevered to be a one-time Olympic rowing hopeful before going on to be a three-time #1 ranked Navy SEAL platoon commander. He applied his lessons learned in leading SEAL platoons to building and leading a hyper-growth company. He has over 25 years of military and business leadership experience building, leading and innovating with teams.

Tested and proven, he has been called the modern-day "Zig Zigler" because of his magnetic presence, riveting story-telling and innovative teaching methodologies. His simple and effective frameworks help organizations build high functioning team players and leaders that can innovate.

About the Hotel

The Ritz-Carlton in Pentagon City
1250 S Hayes St, Arlington, VA 22202
Phone: (703) 415-5000
When making reservations,
please mention the LPA Spring Meeting
Hotel deadline was April 18, 2017

You might also try nearby hotels for affordable availability,
as some attendees are staying at the:
DoubleTree Crystal City
300 Army Navy Dr, Arlington, VA 22202
Phone: (703) 416-4100
In addition to this outstanding meeting, the LPA will hold the 2017 LPA Capitol Hill Day on May 4th to make it easier for members to attend. An optional dinner will be planned for May 3rd, as well as a breakfast on the morning of May 4th to go over everything before heading to the Hill.

Everyone who attended the 2016 Hill Day felt the trip to Washington was well worth it and the connections they made in their lawmaker's offices to be very valuable, especially with the EPA Stratospheric Protection Division and the Energy Star Division. Go to www.lpanet.org/hillday for a sample schedule. Please let Clark or Angie know if you plan to attend the 2017 LPA Capitol Hill Day or indicate you are planning to attend when registering for the LPA Spring Meeting. Due to the nature of setting up the appointments with each office, exact times will not be given out until a few days prior to the meeting. You do not have to attend the Spring Meeting in order to attend Hill Day.


Not sure what to expect? Click the picture below for pictures of past LPA meetings on our Facebook Page.