Eisco Scientific
Company Profile:
Eisco Scientific started over 50 years ago as a small, family-owned manufacturing company serving the science education marketplace. Since then they have grown into a multinational corporation with headquarters located in both India and the United States that serve hundreds of distributors in over 100 countries throughout the world. Their mission is simple; to be TRUSTED by educators, researchers, and scientists throughout the world to design, manufacture, and DELIVER products that allow LEARNING and the development of scientific knowledge.
We produce over 6,500 unique product lines for the science education and scientific research markets. Our core product lines include:
Physics – Whether you are studying forces and motion or Schrödinger's wave equation, we have the apparatus and experiments you need to study those topics and everything in between. Our business started with physics and these products remain a strong product line today. Chemistry & Lab Supplies – It takes a lot of supplies and equipment to study chemistry. It has been said that if you tipped a chemistry classroom upside down, everything that falls out that is not a chemical is a product we manufacture. That includes beakers, burners, tongs, and anything made of glass, plastic, metal, ceramic or cork. Biology –We provide everything a biology classroom needs except for the specimens. Our product line ranges from hundreds of anatomical models, to dissecting equipment, to microscopes and slides. Glassware –We manufacture every piece of glassware you can find in a lab. Our glassware meets various international standards, including ISO and ASTM, and is made from borosilicate 3.3 glass.
Trust. Deliver. Learn.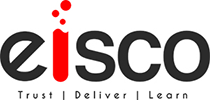 Eisco Scientific
788 Old Dutch Road
Victor, NY 14564
United States

Phone: (585) 563-7963
Fax:
Website: www.eiscolabs.com